FAQs
Question: How long before I receive my order?
Answer: Most custom orders will be received approximately 2.5 weeks after the order date. (Exception would be items with white/black finishes and wooden chairs)
Question: Who do you use to ship your products?
Answer: We use United Parcel Service and provide tracking numbers when the item ships.
Question: Can I pick my colors for my child's name?
Answer: Yes, but there is a special order fee of $25.95. We don't recommend trying to pick colors to match a room or change the color sequence. We have been using the primary color scheme (red, orange, yellow, green, blue, purple) for the last 43 years and it continues to be the best color sequence visually and educationally.
Question: What is a "Rush Option"
Answer: If you choose this option your order is assigned to one of our employees, prioritized in manufacturing and put to the head of our production line in order to ship ahead of our normal production schedule. Your order will leave or facility is 3-4 business days. This option is usually cheaper than express shipping, if needed by a specific date. Express shipping can be added to this option for an additional fee. If you have any questions about your order arriving on a specific date, or the cost of express shipping, please call us at 800-458-3960.
Question: I have lost a letter or letters, can I get a replacement?
Answer: Yes, we can make replacement letters for any item, the charge is $15.95 per letter and $6.95 shipping. Please call 800-458-3960 for specific details or to place the order.
Question: What is the engrave option for the back of an item?
Answer: We use a special engraving tool that actually burns into the back or bottom of an item a message of your choice. This can include all the baby's birth information or a special message from you.

Question: Do you engrave exactly what I typed in the box for the engraved message?
Answer: YES, we engrave exactly what you type in the field for the engraved message, we change nothing, so be sure that everything is typed and spelled correctly. This also includes the case type that you choose, i.e. all capital letters or all lowercase letters.
Question: Do you align and center the engraved message on the back or bottom of the item?
Answer: YES, we align and center the engraved message when we get the order.
Question: What is a Knot?
Answer: A knot is where a limb or branch grew out from the main trunk of the tree. Knots can take on all shapes and sizes depending on the size and shape of the limb or branch. The image below has a knot above the letter "i" and a knot on the front side of the stool. Damhorst Toys uses only furniture grade high quality 100% wood to create each of our hand crafted items. Because wood is a natural product, variations of wood grain, color, knots or texture may be experienced. Damhorst Toys cannot be responsible for these variations, and will not consider them a defect.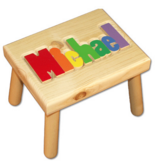 Question: What is the "No Knots" option?
Answer: A "No Knots" option insures that no knots are present on the surface or top of the item being purchased. This option does not exclude a knot being present on the side of an item. Because additional labor is incurred to find and cut a piece of wood without knots on the surface, an additional charge is added to the price of the item.
Question: What is your return policy?
Answer: Unfortunately, there are no returns on personalized items.
Question: Are all your paints and finishes safe for kids?
Answer: Yes, all our paints and finishes are water based and non-toxic.
Question: Can you do accents above the name?
Answer: Yes, please see the pictures below for examples of some of the accents we have done.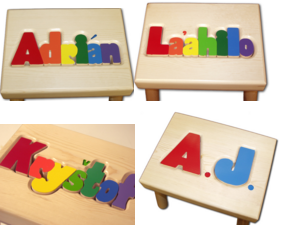 Question: How do the Name Puzzle Stools age over time
Answer: In the picture below the top Name Puzzle Stool was order by one of our customers in 1984 and the Name Puzzle Stool below was ordered in 2012. The Ponderosa pine wood that we use for the stools will age over time toward a darker tint.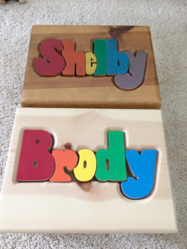 Question: Who should I call if I have a problem with my order?
Answer: Call 800-458-3960 for any issues. Thank you!