Our History
My name is Kris Damhorst and our company is currently owned by myself and my sister Megin Cassimatis. Our parents, Don and Carol Damhorst (pictured to the right), started making unique handmade wooden puzzles in 1971 for us as children.
They observed how these puzzles taught us perception, problem solving and patience. It was great for them to see how these toys gave us a great sense of accomplishment.
It wasn't long before friends started asking them to make the same toys for their children. A short while later, mom and dad started selling their toys and puzzles in St. Louis specialty shops.
In the early 70's, Don and Carol began exhibiting at Art & Craft fairs throughout the country, meeting other craftspeople and more importantly their customers.
In February of 1998, they moved the business from our home to a larger shop in Hermann, Missouri, and in 2004 Megin and I took ownership of Damhorst Toys full time. Megin and I are so grateful to continue the tradition that was started by our mother and father in 1971. We are also incredibly lucky to have a crew that not only works hard, but is dedicated to keeping and maintaining our high standard of quality and craftsmanship.
Unfortunately, our mother and father are no longer with us today, but their vision and creativity live on through the toys and gifts that we make each and every day
Today we still sell our products direct. This is so we can keep in touch with you, our customer, in order to continue to improve our quality based on your feedback. We want to thank all of our wonderful customers we have gotten to know through the years for their support and loyalty.
Thank you!
(This video goes over our company history from 1971 to present)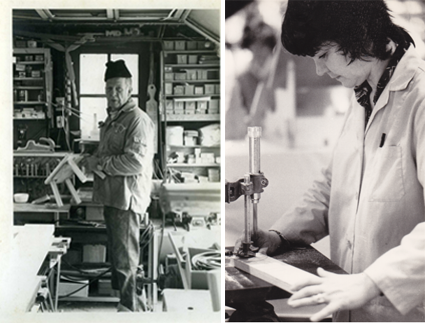 (Don and Carol Damhorst in their first full time workshop)